Telecommunication applications dominate the worldwide PLC splitter marketplace.
Aptos, California (USA) – August 19, 2013 –ElectroniCast Consultants, a leading market/technology consultancy, today announced the report release of their market forecast of the global consumption of Planar Lightwave Circuit (PLC) splitters used in Fiber Optic Communication Networks.
This ElectroniCast study report details of last year's consumption and forecasts to the year 2017 of PLC splitters by product-level (level of fabrication), in selected optical communication applications. There are actually three (3) separate market forecasts:
PLC Splitter Chips
Compact Devices
Modules
According to ElectroniCast, the PON, FTTx, and Telecommunication network applications dominate the worldwide PLC splitter compact device consumption value in 2012 with 77% in relative market share; followed by the cable TV segment, the PLC splitters used in Test/Measurement applications and then Harsh Environment (Military/Aerospace, Industrial) and finally Private Enterprise Networks.
In the report, ElectroniCast provides their market data covering the following optical communication applications:
Passive Optical Network (PON) / FTTX / Telecommunication Networks
Cable TV (CATV)
Fiber Optic Test/Measurement
Private Enterprise/Data Centers/Local Area Networks (LANs)
Harsh Environment (Military, Industrial, Other)
In 2012, the Asia Pacific region (APAC) region leads in the consumption of PLC splitter compact devices with 68% of the worldwide value, followed by the American region and finally the EMEA region.
According to ElectroniCast, the Asia Pacific region dominates the worldwide value of PLC splitters with 68% in 2012.
PLC Splitter Component-Level Compact Devices
2012 – Global Consumption Value Market Share (%), by Region
(Source: ElectroniCast Consultants)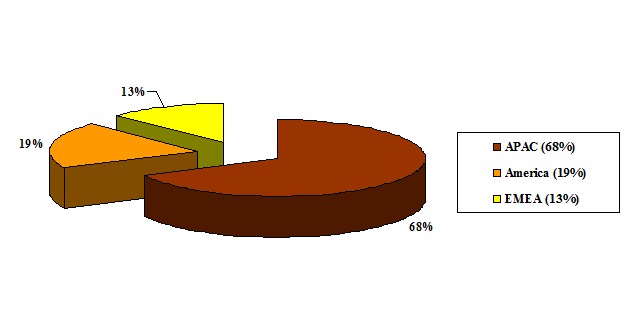 Note: The article is from DK Photonics www.dkphotonics.com, edited by Elena.