According to ElectroniCast, optical isolator value in Telecommunications is forecast to increase 19.6% this year.
Aptos, California (USA) – April 29, 2014 – ElectroniCast Consultants, a leading market research technology forecast consultancy addressing the fiber optics communications industry, today announced the release of a new market forecast of the global consumption of optical isolators in optical communication and specialty applications.
According to ElectroniCast, the worldwide optical isolator consumption was led by Telecommunication applications in 2013 with a 70 percent market share or $349.7 million, and is forecasted to increase 19.6 percent in value to $418.2 million this year (2014). Market forecast data in this study report refers to consumption (use) for a particular calendar year; therefore, this data is not cumulative data.
Optical isolators are devices that allow light to be transmitted in only one direction. They are most often used to prevent any light from reflecting back down the optical fiber, as this light would enter the source and cause backscattering and feedback problems. This is especially important for high data rate transceivers and transponders, or those devices requiring long span lengths between transceiver pairs. Optical feedback degrades signal-to-noise ratio and consequently bit-error rate.
"Continuing demand for upgrading communication networks to accommodate rapidly increasing bandwidth requirements will drive the steady consumption of optical fiber links. Optical isolators are used in with high-speed transmitters that are required to transmit longer distances and/or multiple wavelength transmitters," stated Stephen Montgomery, Director of the Fiber Optics Components group at ElectroniCast Consultants.
Optical isolators are not widely used in Private Enterprise applications; however, worldwide use of fiber optic isolators in Cable TV controlled device deployments are forecast to grow significantly in value at an annual rate of 8.8 percent (2013-2018), as optical fiber is deployed closer to the home driven by multi-media applications.
Optical isolator units are used in a variety of Military/Aerospace applications requiring rigorous testing and harsh environment fiber optic (HEFO) certification to ensure reliability and performance. Laser-based fiber optic technology incorporating optical isolators are used in a wide variety of air, sea, ground, and space applications.
A major user-group within the Specialty application category is Laboratory/R&D. Optical isolators are used for noise reduction, medical imaging, pulse selection for mode locked lasers, sensing, regeneration switches, disc master, optical trapping, phase shifters, frequency modulation spectroscopy and general shuttering. The optical isolators are also used in sensing for industrial, structures and other many other communication product-oriented manufacturing/test/R&D uses.
"During the forecast period (2013-2018), bandwidth expansion demands will push for new network links, incorporating Metro Core, Metro/Access, Long Haul, Optical Fiber Amplifiers, WDM, OADM and other system-based deployments, which incorporate optical isolators," Montgomery added.
The American region held the lead in terms of relative market share consumption value of optical isolators in 2013, with nearly 43.4 percent; however the American region is forecast to increase at a slower rate compared to the other regions (2013-2018). The Asia Pacific region (APAC) is forecast to increase in worldwide market share from 39.7 percent in 2013 to with 53.7 percent in 2018. The Europe,Middle East, African region (EMEA) is forecast to remain in the third-place position, however, increase at a faster annual pace versus the American region.
According to ElectroniCast, the American Region leads optical isolator consumption value.
2013 – Optical Isolator Global Value Market Share (%),
By Region, $498 Million
Source: ElectroniCast Consultants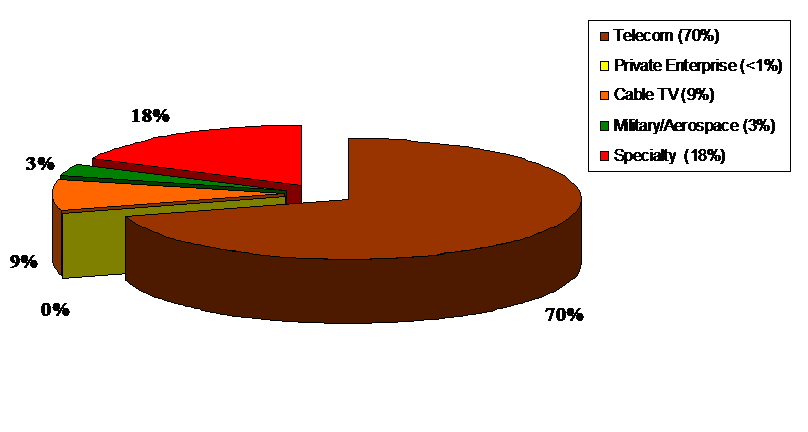 Note: The article is from DK Photonics www.dkphotonics.com, edited by Elena.