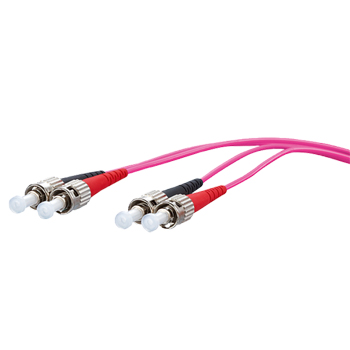 ST-STDuplex 10G OM4 Patch Cords
Model:
Description: TING ESUN offers a complete selection of ST-ST fiber optic patch cords, these fiber optic patch cords include single mode and multimode types, simplex,duplex and multi fiber versions. End face is available for PC, UPC or APC. Patch Cord jacket material can be PVC and LSZH. All Patch Cords are RoHS compliant. We supply related standard and customized fiber optic patch cords with competitive price and prompt delivery.
FEATURES
Low insertion loss and high return loss
Telcordia, IEC, TIA/EIA standard compliant
RoHS compliant
100% optical performance inspection and end face geometric
Varieties of cable assemblies
Suitable for high-speed, high-capacity optical fiber transmission system
Good packing, competitive prices and very fast delivery
APPLICATIONS
Telecom, datacom
Optical fiber communications system
Optical fiber access networks
Cable TV(CATV)
Optical fiber test equipements
Local area networks(LANs)
OPTIONS
PC, UPC, APC polish types
FC, SC, ST, LC, MU, MT-RJ, E2000, SMA connector
Simplex, duplex or multi fiber for standard or customized
Provide SM/MM patch cord and pigtails
Cable Diameter: 0.9mm,2.0mm,3.0mm
Length/Type: according to customers' demands
Jacket types: PVC, LSZH and PE
Custom fiber optic cable lengths and jacket colors
Various fiber types and wavelengths, typical 9/125 single mode, 50/125 multimode and 62.5/125 multimode
SPECIFICATIONS
PARAMETERS

Unit

SM

MM

Fiber Diameter

μm

9/125

50/125

62.5/125

Endface Type

--

PC

UPC

PC

Insertion Loss

dB

≤0.2

≤0.15

≤0.1

Return Loss

dB

≥45

≥50

≥30

Insert-pull Test

dB

≤0.2

≤0.3

≤0.15

Interchangeability

dB

≤0.1

≤0.15

≤0.1

Cable Diameter

mm

0.9&1.6&1.8&2.0&2.4&3.0

Operating Temperature

°c

-40~+75

Storage Temperature

°c

-40~+80
ORDER INFORMATION
ORDER CODE example: PC-EEAD1YP01M
LC/UPC to LC/UPC Fiber Optic Patch Cords, Single mode 9/125μm Duplex with a 0.9mmYellow PVC jacket 1 meters long.
PC

X

X

X

X

X

X

X

X

X

Code

Connector A

Connector B

Fiber Mode

Fiber Number

Cable Diameter

Jacket Color

Jacket Type

Cable Length

Unit

E=LC/UPC

F=LC/APC

H=SC/UPC

I=SC/APC

K=FC/UPC

L=FC/APC

N=ST/UPC

O=SC/APC

Q=E2000/UPC

R=E2000/APC

S=MTRJ

T=MU

U=SMA

E=LC/UPC

F=LC/APC

H=SC/UPC

I=SC/APC

K=FC/UPC

L=FC/APC

N=ST/UPC

O=SC/APC

Q=E2000/UPC

R=E2000/APC

S=MTRJ

T=MU

U=SMA

A=9/125μm

Single mode

B=62.5/125μm

Multimode

C=50/125μm

OM3

D=50/125μm OM4

S=Simplex

D=Duplex

1=0.9mm

2=2mm

3=3mm

Y=Yellow

O=Orange

A=Aqua

L=Blue

G=Green

N=Brown

S=Slate

W=White

R=Red

B=Black

U=Purple

P=Pink

P=PVC

L= LSZH

N=None

01=1m

02=2m

03=3m

……

09=9m

10=10m

M=Meters

F=Feet

I=Inches

C=Centimeters