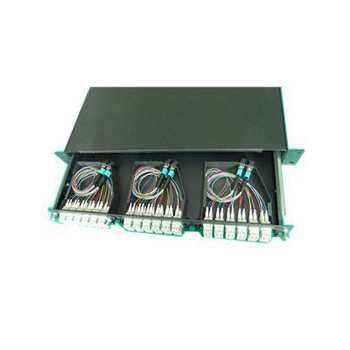 MPO Fiber Optic Patch Panel
Model:
Description: MPO Cassettes are specially designed to reduce installation time and cost for an optical network infrastructure in the premises environment. MPO Cassettes provide secure transition between MPO and FC, LC, ST, or SC connectors. They are used to interconnect MPO backbones with LC/ FC/ SC/ST patching. TING ESUN offers a wide range of single-mode and multimode MPO Cassettes. The standard cassettes have one MPO connection (12-fiber) or two MPO connections (24-fiber) on the back of each cassette, which can accommodate 12 and 24 port configurations.

FEATURES
Small volume, high fiber density

SM/MM 4, 8, 12, 24 cores available

PC (plane) and APC (8°) available
APPLICATIONS
SPECIFICATION
PARAMETERS

UNIT

VALUE

MPO Connector

--

SM Standard Ferrule

MM Standard Ferrule

Insertion Loss

Typical

dB

0.35

0.35

Maximun

dB

0.75

0.60

Return Loss

dB

≥60 for APC (8 Angle Polish)

≥20 for PC

dB

≥50 for PC

--

Durability

dB

<0.5 for 500times insertion

Operating Temperature

°C

-40~75℃

Ferrule Type Available

--

4,8,12,24
ORDER INFORMATION
ORDER CODE example: MPO-12-MF-P-OS1
MPO Fan-out Cassette with fiber count is 12. Fiber mode is OS1. Connector type is MPO and FC. End face is pc.
MPO

X

X

X

X

Code

Fiber Countl

Connector Type

End Face

Fiber Mode

12,24

MF=MPO-FC

MS=MPO-SC

MT=MPO-ST

ML=MPO-LC

P=PC

A=APC

SM:

OS1, OS2

MM:

OM1 , OM2 , OM3 , OM4