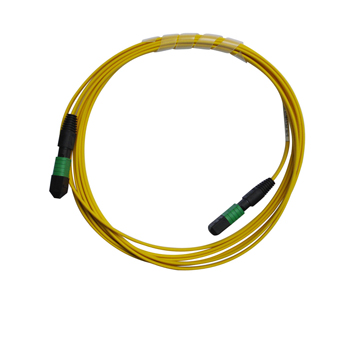 Single Mode MPO Trunk Patch Cords
Model:
Description: MPO fiber optic patch cords are with MPO fiber optic connectors. They are several fiberglass connections in one such patch cord, Which offer up to 12 times the density of standard connectors, providing significant space and cost savings. MPO patch cords use Precision molded MT ferrules, together with metal guide pins and precise housings ensuring fiber alignment when mating.

TING ESUN supply 4, 8, 12 and 24 fiber core configuration MPO with SM(OS1, OS2) and MM(OM1, OM2, OM3 or OM4) fiber mode. Cable type are available for Jacket Ribbon Cable, Bare Ribbon Cable and Round Cable. End face are available for PC and APC polishing. MPO Connector housing are available in Green, Yellow, Beige and Aqua.Connectors are available for male and female.


FEATURES
Low Insertion Loss

Low Polarization Dependent Loss

Easy connection and disconnection

Fiber Options: OS1 /OS2/OM1/OM2/OM3

Polishing Options: PC/UPC/APC

Precision Multifiber MT Ferrule

Push-pull latching

Bare & Flat Jacket Ribbon and Round cable

Male(with guide pin) and Female(without guide pin) connector type

IEC61754-7, Telcordia GR-1435-CORE compliant


APPLICATIONS
Access Network

Telecom/CATV Systems

FTTx
SPECIFICATION
PARAMETERS

UNIT

VALUE

MPO Connector

--

SM Standard

SM Low Loss

MM Standard

MM Low Loss

Insertion Loss

Typical

dB

0.35

0.20

0.35

0.20

Maximun

dB

0.75

0.35

0.60

0.35

Return Loss

dB

≥60 for APC (8 Angle Polish)

≥20 for PC

dB

≥50 for PC

--

Durability

dB

<0.2 for 200 times insertion

Operating Temperature

°C

-40 ~75℃

Ferrule Type Available

--

4,8,12,24
ORDER INFORMATION
ORDER CODE example: MPO-F-P-4-F-P-OS1-9-1-RJ
MPO with female connector1, pc end face1, female connector2, pc end face2. Fiber count is 4. Fiber mode is OS1. Cable diameter is 0.9mm and length1mm. Cable type is Jacket Ribbon Cable.
MPO

X

X

X

X

X

X

X

X

X

Code

Connector Type

1#

End Face 1#

Fiber Count

Connector Type

2#

End Face 2#

Fiber Mode

Cable Diameter

Cable Length

Cable Type

F=MPO-Female

M=MPO-Male

P=PC

A=APC

4,8,12,24…

F=MPO-Female

M=MPO-Male

F=FC

S=SC

T=ST

L=LC

P=PC

A=APC

SM:

OS1, OS2

MM:

OM1 , OM2 , OM3 , OM4

9=0.9mm

2=2mm

3=3mm

1=1m

2=2m

3=3m

…

RJ:Jacket Ribbon Cable

RB:Bare Ribbon Cable

RC:Round Cable